Back to Blogs
Making Safety the Standard - Mike Elliott: Safety Management System
​At TXM Consult we strive to achieve the highest level of service possible, by powering innovation, driving transformation, embedding resilience, and ensuring safety for our global client base. That's why our Competency and Safety Management Lead, Mike Elliott, has recently launched our new Safety Management System designed to ensure safety, mitigate risks, and promote a culture of safety across the business, meaning our teams can continue to deliver service excellence.
Operating across a variety of engineering and transit industries around the world, our teams on the ground delivering turnkey solutions operate in high-risk working environments. As such, we have a responsibility to ensure our people maintain stringent safety standards and uphold a unified approach across all geographic regions.
"It's important we carry out regular checks of our work environments, including identifying hazards and facilitating continual improvement, so that we uphold a level of care for our people, wherever they may be," said Mike. "This includes establishing a means for all staff to be able to report near misses and accidents at all times. Doing so can help identify and prevent potential hazards and unsafe conditions. By reporting incidents as they occur, employees can raise awareness about potential risks and help TXM Consult take proactive steps to reduce the likelihood of similar incidents happening in the future."
The key to safe workplaces is transparent and effective communication. We are always looking at ways we can improve our safety communication to promote a safe and healthy work environment for our people and our clients. Effective communication of safety policies, procedures, and any incidents or hazards that may arise can help to prevent accidents and injuries and foster a culture of safety.
Mike continues: "Safety communication is all about making sure everyone in the workplace knows what to do to stay safe. It covers things like safety bulletins to keep people's knowledge up-to-date, guidance on how to use protective gear, and the distribution of important documents and processes. It's all about spreading the message loud and clear to make sure everyone gets it."
To aid our communications and the wider Safety Management initiative, Mike has worked with other members of our Operations team to develop the TXM Consult Safety App; a comprehensive solution for workplace safety management that allows staff to report incidents, conduct safety tours, access safety bulletins, and manage non-conformances digitally, regardless of location.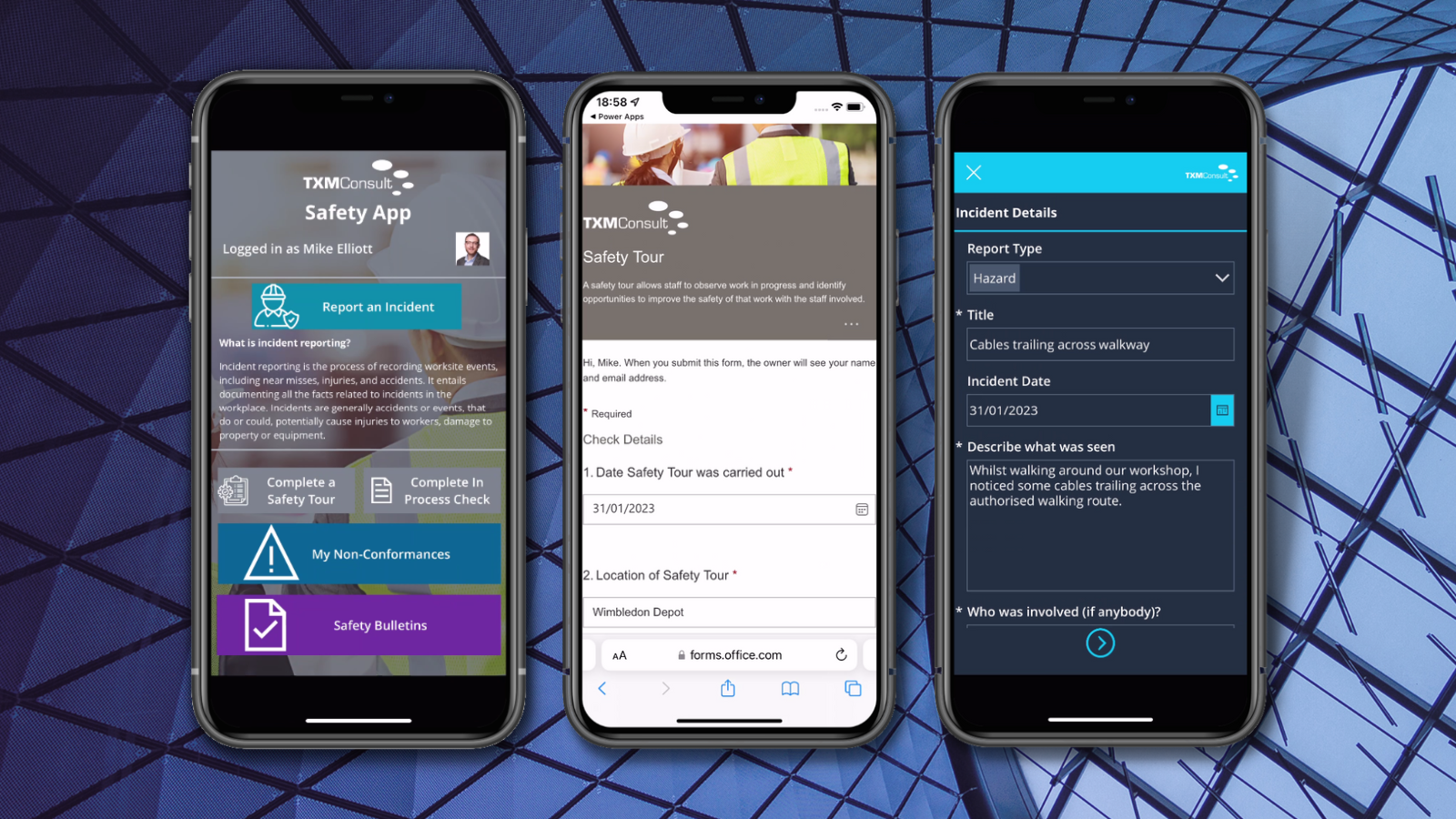 As an extra level of accountability, we have also implemented a regime of Senior Leadership Safety Tours which sees senior leaders making in-person visits to projects every month to review and access safety standards and ensure they remain as high as can be.
Andy Slater, Global Managing Director, comments: "Our people are our most important asset; above all, we want everyone to be safe in their work. To allow our teams to perform to their full potential, we must ensure safe working conditions. The systems, toolkits, processes and communication on the new Safety Management System will not only protect our people but will also help to ensure our clients receive the high standard of service they've come to expect from TXM Consult."
​
If you would like to learn more about TXM Consult's Safety Management System and the work we're doing to set new safety standards, contact us today.
​